We are pleased to announce the release of Warden Anti-spam and Virus Protection 2.07 under General Availability. All users are encouraged to upgrade. This release has passed Plesk certification and is now available in the Plesk extension directory.
Redis Server added to Dashboard
If Redis is installed it can now be monitored in the Warden dashboard. You can learn how to install and setup Redis with Warden here.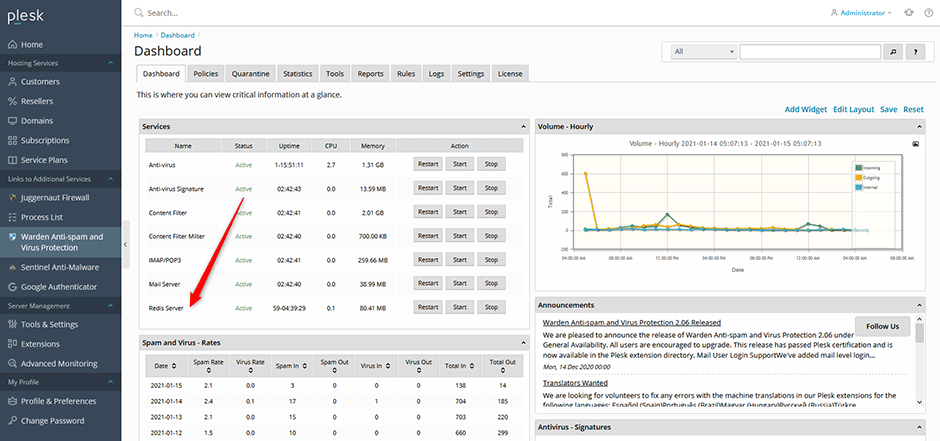 Mail Header Syntax Highlighting
Syntax highlighting and line numbers are now applied to mail headers when viewing quarantined messages. This makes them much easier to read at a glance.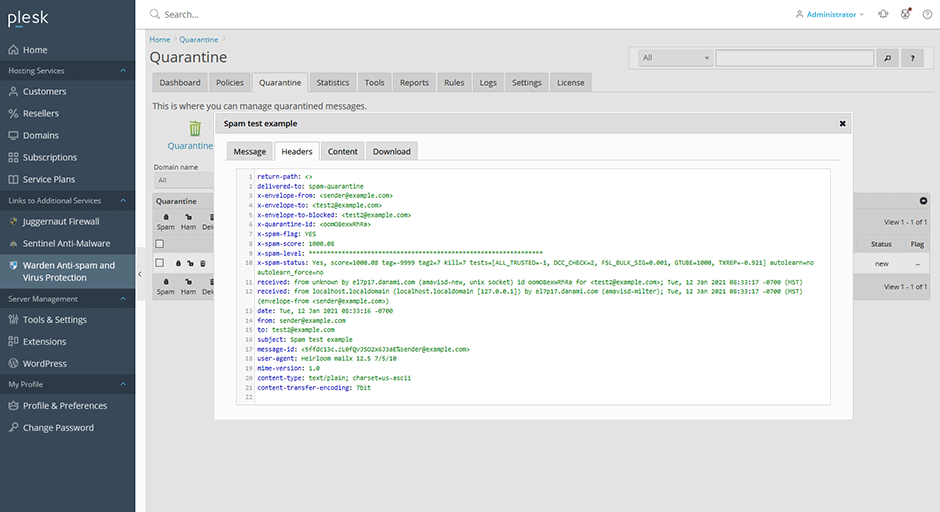 Changelog
* [+] Added additional database indexes which will speed up the Warden interface on busy servers.
* [+] Added the Redis service to the dashboard services widget if Redis is installed on the server.
* [+] Added syntax highlighting when viewing mail headers in the quarantine to make them easier to read.
* [+] Added a KB article for optimizing Amavis for high volume servers. See here for more information.
* [=] Updated the permissions to automatically hide Warden buttons in Plesk if the manage policies permission is disabled for that group. To use this feature just re-save the permissions page under Warden -> Settings -> Permissions
* [=] Improved the operating system detection functions.
* [=] Updated the SpamAssassin DQS plugin to the latest version.
* [-] Fixed a bug with the memory check used by the application setup wizard.
* [-] Fixed a display bug where the default policy for a mailbox might not show the correct setting from its parent domain.
* [-] Fixed a bug where the POP3/IMAP log was not showing on Centos/RHEL/Cloudlinux 8.
* [-] Fixed a bug where the Amavis filter logs were not showing on Debian/Ubuntu systems when Amavis was configured not to log to syslog.

To Upgrade
The upgrade is available to all active license holders.

1. Login to your Plesk panel and click on Extensions -> Updates -> Select the Warden Anti-spam and Virus Protection extension then press the update button. You can view the upgrade process using the command: tail -f /var/log/plesk/panel.log

Full changelog
https://docs.danami.com/warden/basics/changelog

Product Information
https://www.danami.com/products/plesk-extensions/warden-antispam-and-virus-protection
Friday, January 15, 2021