With the Warden Antispam and Virus protection, you get the best of both worlds. Open source standards for content filtering from Amavis®, SpamAssassin®, and ClamAV® combined with deep integration with the Plesk control panel.
With support for over 25 SpamAssassin plugins, inbound/outbound scanning, database logging, custom rule builder, spam and virus quarantine, real-time spam learning, rich reporting, and multi-role access, Warden provides you with the most robust, extendable anti-spam and anti-virus solution for Postfix anywhere.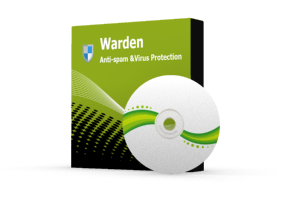 ---
Get one free month when choosing a yearly billing cycle!
* All domains added in Plesk are counted towards your license domain limit. More information
---
Amavis Content Filter
Amavis® has been the gold standard used by large email providers for over a decade. Transform Plesk into an enterprise level mail solution giving administrators, resellers and clients access to everything they need to provide the best-in-class mail support for their clients.
SpamAssassin Anti-spam
Warden super charges SpamAssassin® by providing deep integration with Plesk and enabling all the best SpamAssassin plugins. Control options for Antivirus, ASN, AWL, DCC, DKIM, FreeMail, Pyzor, PDFinfo, Razor2, RelayCountry, Rule2XSBody, SPF, TextCat, TextRep, URIDNSBL, URILocalBL all within the Plesk interface.
ClamAV Anti-virus
Supports ClamAV® open source multi-threaded scanner daemon for detecting trojans, viruses, malware. Extended signatures provide protection against Phishing, Scam, Casino, porn and other general spam. Amavis can call multiple anti-virus scanners with over 40 different scanners supported.
---
Hierarchical Policies
Policies are hierarchical meaning that you can set server wide, domain, and mailbox level filter policies. All child policies will inherit from the parent unless they are overwritten at the child level.
Quarantine Support
Quarantine spam, viruses, banned attachments, and mail with non-compliant email headers. Customers can login to manage their quarantined messages. False positives can easily be trained and released back to the original recipients mailbox.
Statistics and Reporting
An anti-spam and anti-virus system is only as good as its reporting. We have written over 50 of the most detailed spam, ham, and virus reports anywhere. You can even add your own reports. Line, area, scatter, bar, pie, table, and maps render types are supported.
---
Learning and Reputation
Warden gives you real-time spam, ham, and sender reputation training. Messages are trained automatically when the customer moves them to and from their spam folder. Learning and reputation data uses SQL and stored in the Warden database for increased performance and manageability.
Custom Rule Builder
Add custom spam rules right though the Warden interface. Apply rules matching the message header, subject, body or specific URIs. We support adding the name, description, type, value and score for each rule.
Database Logging
Every message scanned by Amavis is logged to the Warden database. Every message is linked directly to its Plesk mailbox so you can search though logs for a specific domain or mailbox.
---
Network Based Tests
Full support for DCC, Pyzor, Razor 2 network based tests. Check messages against distributed, collaborative, spam detection and filtering networks. Detection is done with statistical and randomized signatures that efficiently spot mutating spam content.
Multi-Role Access
Warden fully supports giving resellers, customers, and mail users access to different parts of the Warden application. Enable your customers to help themselves without resorting to costly support calls.
Multi-Language Support
Full internationalization and localization support. We currently support English, German, French, Spanish, Italian, Hungarian, Dutch, Polish, Portuguese, Russian, Turkish, Chinese Simplified, Chinese Traditional, and Japanese languages.
---
IMAP/POP3 Tracking
Track who is logged into the dovecot service. This makes it easy to see if a customer can access their mailbox. View the username, connections, protocol, IP address, and location of each logged in user.
Third Party Rules Support
Boost the performance and efficacy of a stock installation of Amavis using third party rulesets. Built in support for the KAM ruleset used by the McGrail Foundation.
Policy Migrator
The Warden policy migrator makes it easy to import your old spam filter settings or migrate your current settings across servers. Easily migrate the your old Plesk spam filter settings into Warden with just a few clicks.
---
Extended Signatures
Extend ClamAV using free third-party signature databases provided by Sanesecurity, Securiteinfo, URLhaus. This can dramatically increase ClamAVs detection rates without costing you anything.
Per Message Spam Reporting
Amavis can log a detailed spam analysis for each message. View exactly what spam rules were matched by a message. Gone are the days of having to login to a customers email account to diagnose email problems!
100% Plesk Compatibility
Warden was developed to be 100% compatible with existing Plesk installations. Care has been taken to always use standard Plesk APIs. This makes sure that Warden will always be compatible with extensions like the migration manager and across future Plesk upgrades.