We are pleased to announce the release of Warden Anti-spam and Virus Protection 2.05 under General Availability. This is a bug fix release. All users are encouraged to upgrade. This release has passed Plesk certification and is now available in the Plesk extension directory.
New Network Tools
We've made improvements to the network tools area and added new tools for MX, DMARC, RDNS, and DKIM record lookups.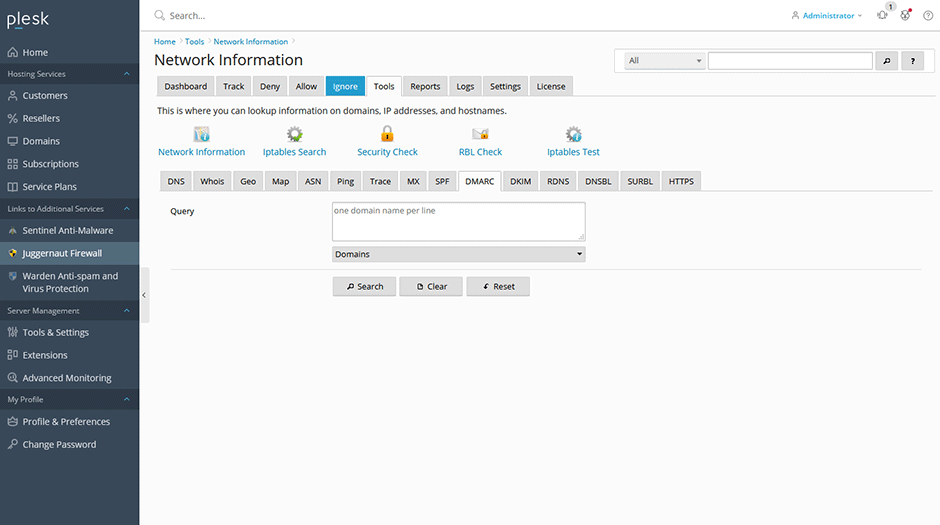 Changelog
[+] Added bulk MX, DMARC, RDNS, and DKIM record lookup tools under Tools -> Network Information.
[=] Updated the network-info vendor libraries to their latest versions.
[=] Updated the blacklist and whitelist entry validation to not allow wildcard characters that are unsupported by Amavis (question marks or asterisks).
[=] Updated the subject entries in the quarantine grid to always be clickable even for emails that do not have a subject line.
[-] Fixed a duplicate entry database error that could happen when re-adding mixed case whitelist or blacklist entries.
[-] Fixed a bug with the new SMTP and Non-SMTP options where the amavisd-milter was not getting added to the postfix configuration during first installation in some situations.
[-] French translation fixes. Thanks Cyril!
To Upgrade
The upgrade is available to all active license holders.

1. Login to your Plesk panel and click on Extensions -> Updates -> Select the Warden Anti-spam and Virus Protection extension then press the update button. You can view the upgrade process using the command: tail -f /var/log/plesk/panel.log

Full changelog
https://docs.danami.com/warden/basics/changelog

Product Information
https://www.danami.com/products/plesk-extensions/warden-antispam-and-virus-protection
Wednesday, November 18, 2020