We are pleased to announce the release of Warden Anti-spam and Virus Protection 2.0 under General Availability. All users are encouraged to upgrade. This release has passed Plesk certification and is now available in the Plesk extension directory.This is a major release that represents over a year of development work so users will be required to go though the application setup wizard after upgrading.
To Upgrade
1. Login to your server and run the command: touch /usr/local/psa/admin/htdocs/modules/warden/upgrade_me
2. Login to Plesk and go to Extensions -> Updates -> Check Warden Anti-spam and Virus Protection -> Press the Update button to upgrade the extension.
3. Click on the Warden extension and go though the setup wizard.
Amavis Content Filter
We've added full support for the Amavis content filter. Amavis has been the gold standard used by large email providers for over a decade. The Plesk spam filter, spamass-milter, and clamav-milter have been deprecated.
Hierarchical Policies
We've added a policy area for managing server wide, domain, and mailbox filter policy settings. Policies are hierarchical meaning that you can set server wide, domain, and mailbox level filter policies. All child policies will inherit from the parent unless they are overwritten at the child level.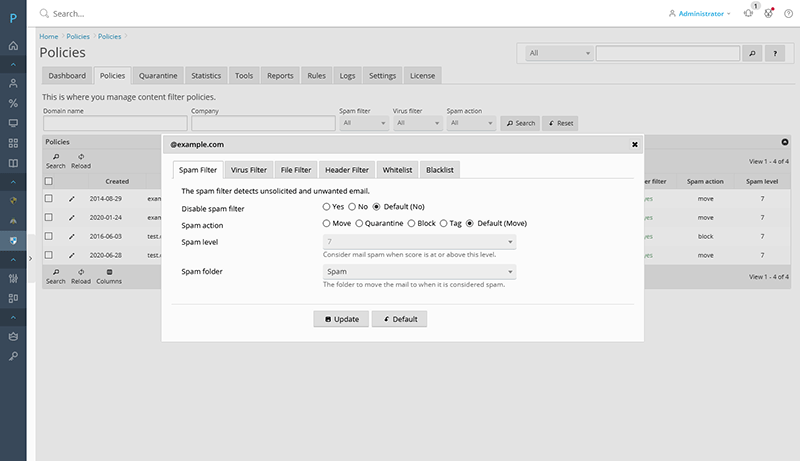 Real-time Spam and Ham Training
We've added real-time spam and ham training using the dovecot IMAP service. Messages are trained automatically when they are moved to and from a mailboxes spam folder. Bayes learning and Txrep reputation data uses SQL and stored in the Warden database for increased performance.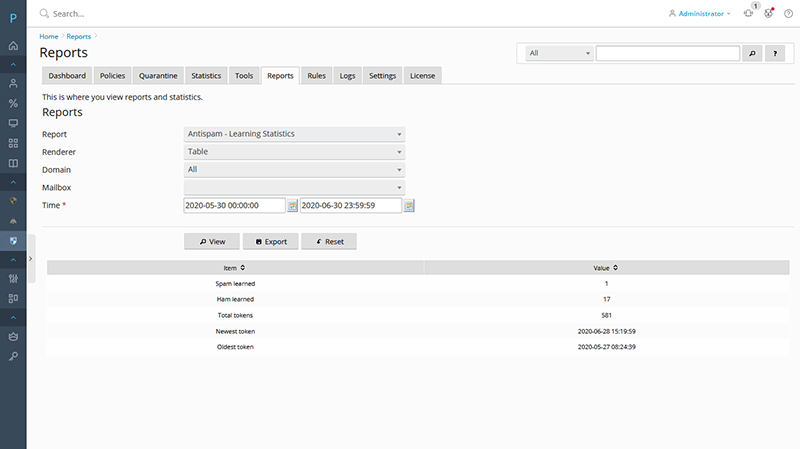 Statistics and Reporting
We've added a statistics area for viewing incoming and outgoing statistics for each domain or mailbox. Every message is now logged by Amavis even if spam filtering is disabled for a mailbox.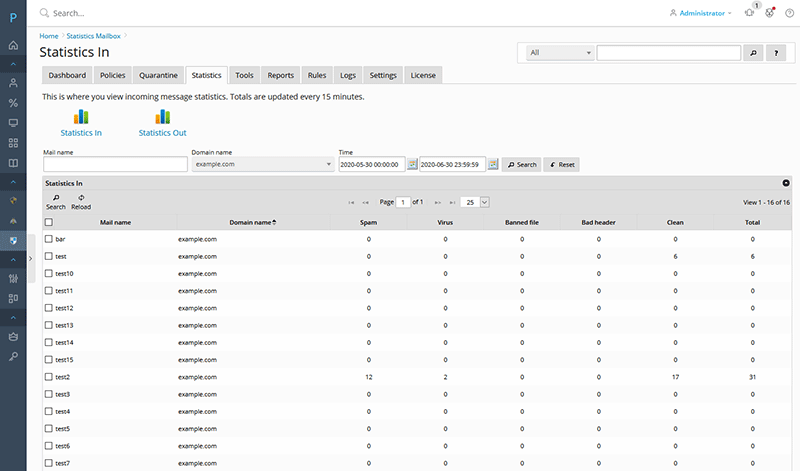 Quarantine Support
We've added a quarantine area for managing incoming and outgoing quarantined email for each domain or mailbox. Quarantine spam, viruses, banned attachments, and mail with non-compliant email headers. Customers can login to manage their quarantined messages. False positives can easily be trained and released back to the original recipients mailbox.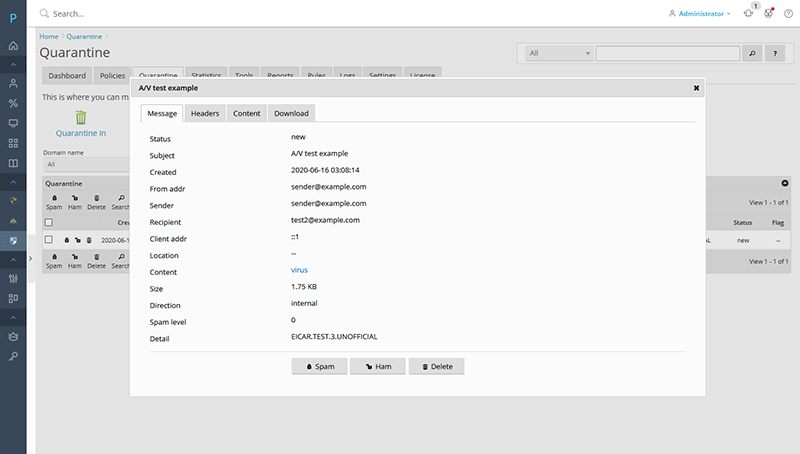 Spam Reports
We've added a spam report tool under tools to see what score and spam rules are matched by a message.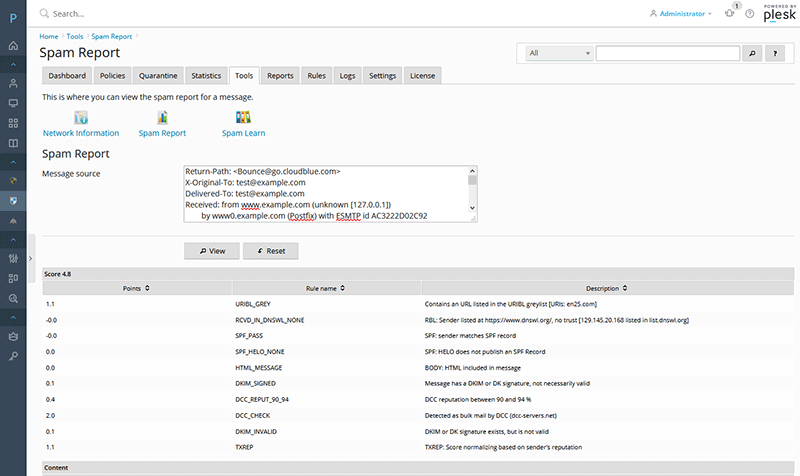 Spam Learning
We've added a spam learn tool under tools to train a message as spam, ham, or to forget a previously trained message.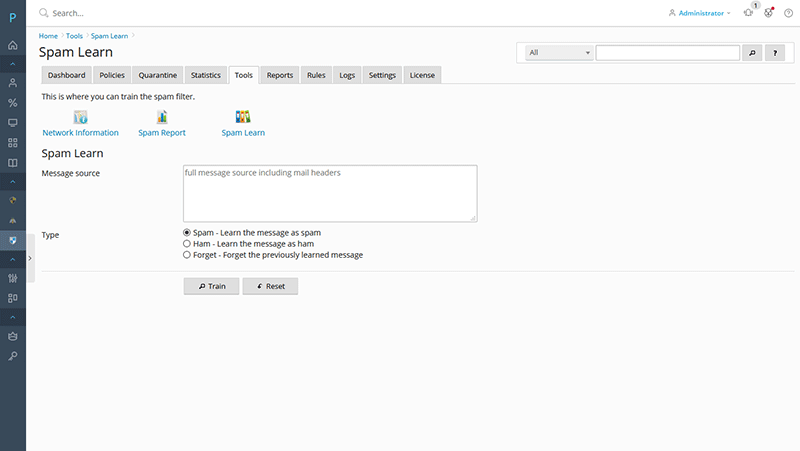 Policy Migrator
We've added a policy migrator tool for importing old Plesk spam filter settings into Warden or for exporting policy settings from one Warden instance into another.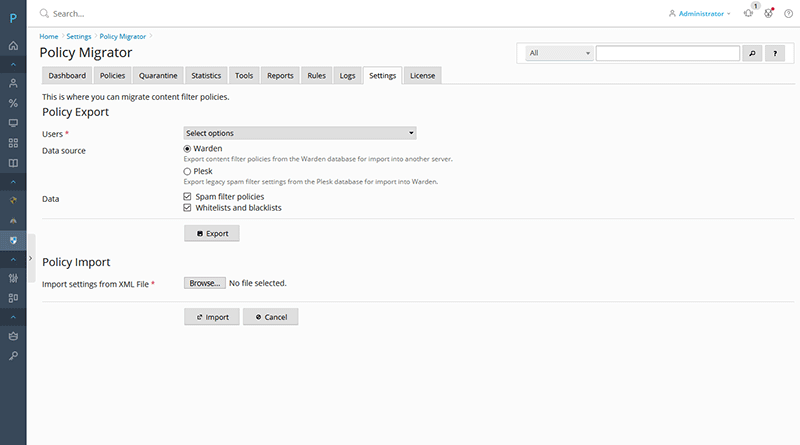 Changelog
[+] Added full support for the Amavis content filter. The Plesk spam filter, spamass-milter, and clamav-milter have been deprecated.
[+] Learning and reputation data is now stored in the Warden database for increased performance.
[+] Added real-time spam and ham training using the dovecot IMAP service. Messages are trained automatically when they are moved to and from the spam folder.
[+] Added a policy migrator tool for importing old Plesk spam filter settings into Warden or for exporting policy settings from one Warden instance into another.
[+] Added a policy area for managing server wide, domain, and mailbox filter policy settings.
[+] Added a statistics area for viewing incoming and outgoing statistics for each domain or mailbox.
[+] Added a quarantine area for managing incoming and outgoing quarantined email for each domain or mailbox.
[+] Added a message log for viewing all messages processed by Amavis. Amavis logs all processed email to the Warden database.
[+] Added a filter log for viewing the amavis log. This log can use the default mail log or a dedicated log file depending on your content filter use syslog setting.
[+] Added a DNS and DNSBL Settings area under Settings -> Panel Application to manage the DNS and DNSBL settings used by the application.
[+] Added a network information tool under tools to view and lookup network information.
[+] Added a spam report tool under tools to see what score and spam rules are matched by a message.
[+] Added a spam learn tool under tools to train a message as spam, ham, or to forget a previously trained message.
[+] Added optimize table functionality to the log maintenance settings area.
[+] Added Anti-spam learning setting `bayes_auto_learn_on_error` and set the default value to `1`.
[+] Added a `time format` option under Settings -> Application Settings giving admins the ability to choose between 12 and 24 hour date display for logs.
[=] Updated the installer to always enable and use the Danami repo on Centos/RHEL/CloudLinux.
[=] Support for Centos 6, Debian 8, and courier-imap has been deprecated.
[=] Updated all extension events to use the Plesk extension eventlistener.
[=] Updated all of the reports to use the new data provided from Amavis.
[=] Updated the services dashboard to include Amavisd, Postfix, and Dovecot services. The dashboard will be reset due to all the changes in this version.
[=] Support for the TesseractOcr plugin has been deprecated. The old plugin will be removed when upgrading.
[=] Updated the trusted hosts to allow the new Plesk URL format without port number for logging in.
[=] Updated the logs area to use the same icon to speed up loading of the page.
[=] Updated the default for Anti-spam learning `bayes_expiry_max_db_size` to `1000000`.
[-] SELinux bug fixes for the product installer.
[-] ClamAV config file parser bugs fixes and improvements.
[-] Fixed a bug where the users remote IP address was not being reported properly when logged in the new Plesk URL format without a port number.
[-] Fixed a bug where an exception would be thrown when no nameserver entries were found in `/etc/resolv.conf`.
[-] Fixed a bug where the antivirus restart button was not working properly when whitelisting a virus signature.

Full changelog
https://docs.danami.com/warden/basics/changelog

Product Information
https://www.danami.com/products/plesk-extensions/warden-antispam-and-virus-protection
Monday, August 10, 2020