We are pleased to announce the release of Warden Anti-spam and Virus Protection 4.0 under General Availability. This is a major release and all users are encouraged to upgrade. This release has passed Plesk certification and is now available in the Plesk extension directory.
Spam Kill Support
We've added new receive spam and spam kill level options to the tag and move spam filter actions on the policy pages. When receive spam is set to no it will enable the spam kill level where a user can set a spam level to reject mail. Mail will be classified as spammy as potential spam when below the spam kill level or spam when the spam kill level is reached rejecting the mail. The spam kill level rejection happens at the SMTP level before Postfix accepts the mail so the senders mail server will bounce back the message informing the sender. Spam kill level has the additional benefit that email blacklisted under Settings -> Policy Blacklist will be rejected instead of marked as spam. See here for more information.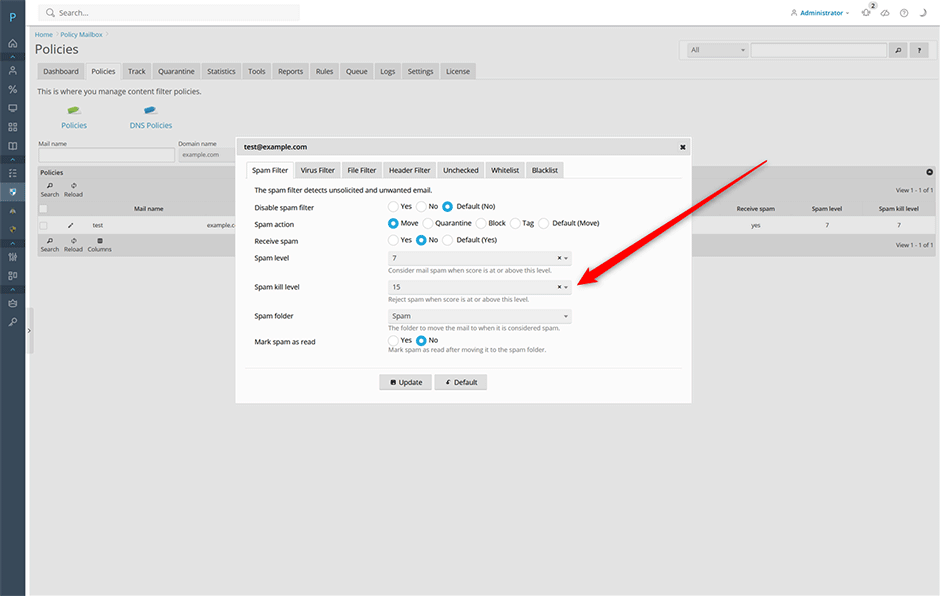 Unchecked Quarantine Support
We've added support for quarantining unchecked email for even better security. Unchecked mail is when the antivirus cannot scan a message in situations like the anti-virus daemon being down or if the mail contains a password-protected archive. Hackers try to bypass anti-virus scans by sending malware to users using password-protected archives. See here for more information.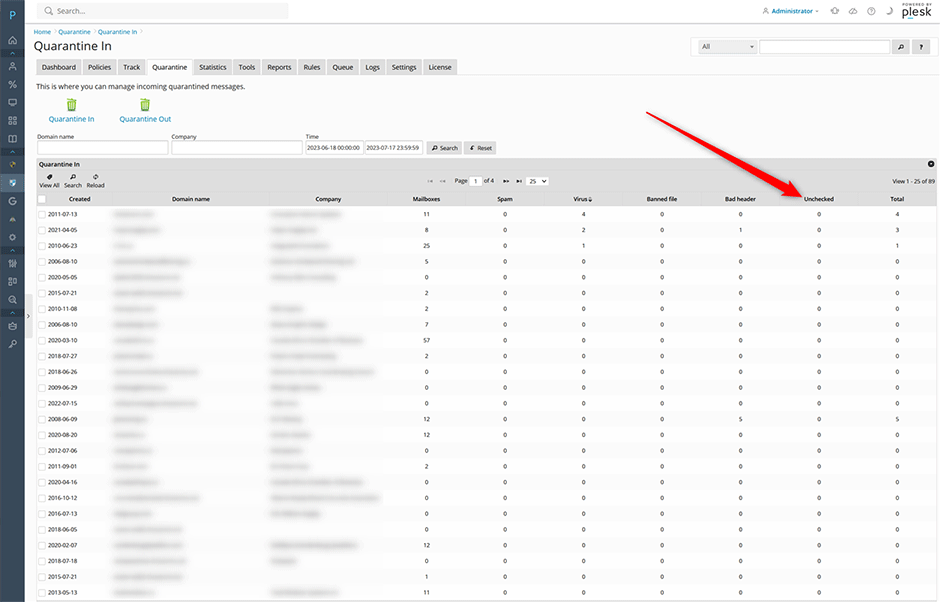 Content Statistics Reports
We've added new content statistics incoming and outgoing reports. These reports give you a nice high level overview for what type of content is coming in and out of the server. They will be displayed by default on the dashboard. Press the reset button on the dashboard to view them.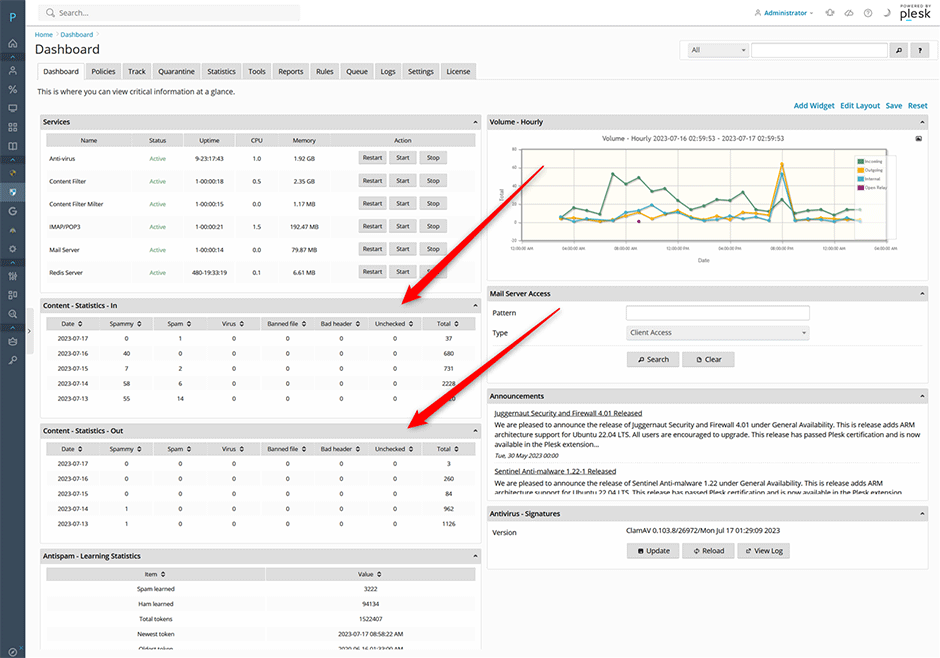 Date Range Search Fields
We've added new date range search fields to the message log, quarantine, queue, and action pages. This makes it easy to search within a specified time frame.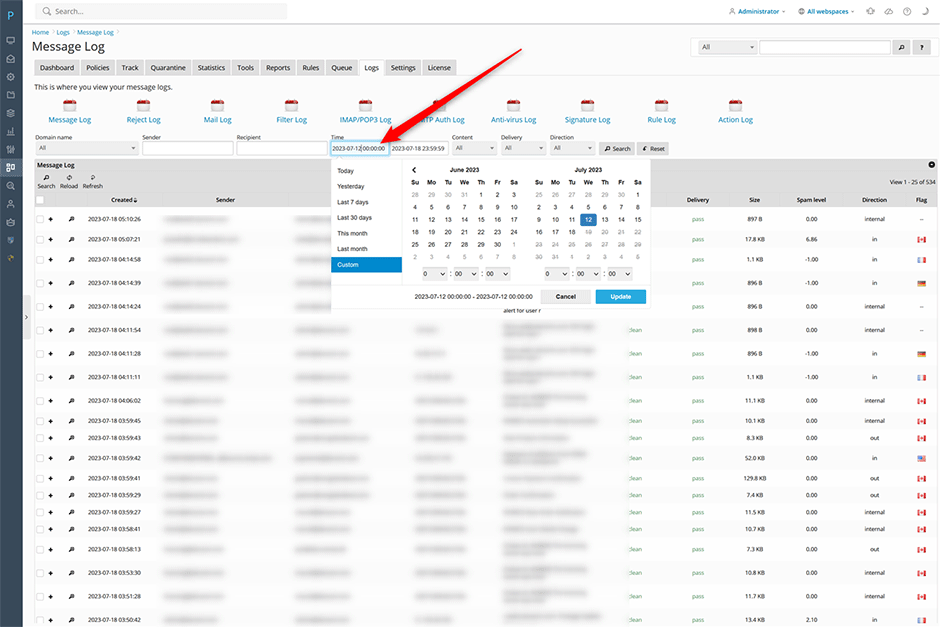 Changelog
[+] We've added new receive spam and spam kill level options to the tag and move spam filter actions on the policy pages. When receive spam is set to no it will enable the spam kill level where a user can set a spam level to reject mail. Mail will be classified as spammy as potential spam when below the spam kill level or spam when the spam kill level is reached rejecting the mail. The spam kill level rejection happens at the SMTP level before Postfix accepts the mail so the senders mail server will bounce back the message instantly telling the sender that their mail was rejected as spam. Spam kill level has the additional benefit that email blacklisted under Settings -> Policy Blacklist will be rejected instead of marked as spam.
[+] Added support for quarantining unchecked email for even better security. Unchecked mail is when the antivirus cannot scan a message in situations like the antivirus daemon being down or if the mail contains a password-protected archive. Hackers try to bypass antivirus scans by sending malware to users using password-protected archives.
[+] Added a new option Receive unchecked emails under Settings -> Content Filter -> Policy Settings -> Unchecked. The server wide policy default is to receive unchecked emails.
[+] Added a new permission Manage unchecked under Settings -> Panel Application -> Permissions so the admin can set if they want resellers, customers, or mail users to be able to override the server wide default.
[+] Added new Content - Statistics - In and Content - Statistics - Out reports. They will be displayed by default on the dashboard. Press the reset button on the dashboard to view them.
[+] Added new options under Settings -> Plugin Settings -> ASN to make it easy for admins to score mail higher or lower for organizations based on their autonomous system number (ASN).
[+] Added new date range search fields to the message log, quarantine, and queue pages.
[+] Added the option SPF validation defer to the mail log message select list options.
[=] Dropped support for Ubuntu 18.04 because it has reached EOL on May 31, 2023. Admins can either migrate to a supported OS using Plesk Migrator or run dist-upgrade to upgrade your Ubuntu 18.04 instance.
[=] Updated the default for $final_bad_header_destiny to D_REJECT instead of D_PASS and set the default server wide policy for receive bad header emails to yes.
[=] Updated grid sender entries to have a SRS forward icon after senders that have sender rewriting scheme (SRS) applied.
[=] Updated the date pickers to use a new date calendar JavaScript component.
[=] Updated the policy default button to better show or hide settings depending on the parent spam action.
[=] Updated the quarantine actions so that messages can still be released even if the sa-learn command  returns an error.
[=] Updated some of the JavaScript libraries to their latest versions.
[=] Security improvements.
[-] Fixed a bug with the IMAP/POP3 tracking dashboard widget not working properly.
[-] Fixed various bugs in the reports.
[-] Translation fixes.

To Upgrade
The upgrade is available to all active license holders.

1. Login to your Plesk panel and click on Extensions -> Updates -> Select the Warden Anti-spam and Virus Protection extension then press the update button. You can view the upgrade process using the command: tail -f /var/log/plesk/panel.log

Full changelog
https://docs.danami.com/warden/basics/changelog

Product Information
https://www.danami.com/products/plesk-extensions/warden-antispam-and-virus-protection
Friday, August 25, 2023