We are pleased to announce the release of Juggernaut Security and Firewall 2.04 under General Availability. This release adds Docker support, Cloudflare improvements, wildcard search support, improved installation experience, and includes many bug fixes.
Important
The minimum Plesk version has been raised to Plesk 17.0 so that we can take advantage of the new Plesk APIs. We encourage all users to upgrade to Plesk 17.0+ if they haven't done so already.
Docker Support
Users can configure iptables rules to allow Docker containers to communicate through the host with just a few clicks.
Cloudflare users can now define if they want a custom trigger to trigger a block in Cloudflare.
We've added wildcard search support (-W) to log searches. This allows users to search though multiple logs in a single search.
We've added a copy button next to each country select list so you can easily copy and paste settings across servers.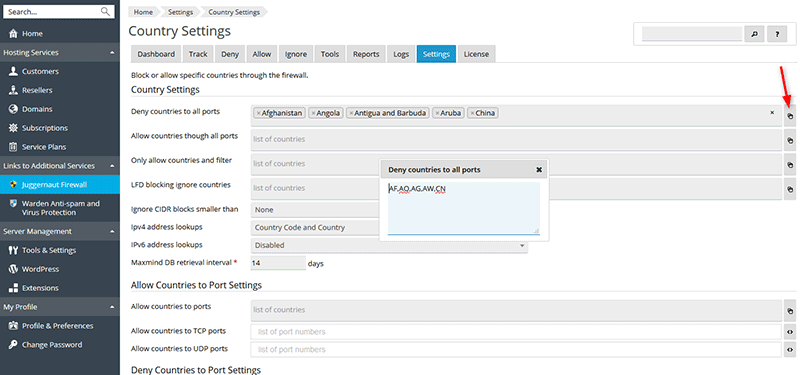 Improved Installation Experience
The new install process has been improved so no changes will happen to the server until the user agrees to run the installer. We are now using Plesks new long task APIs to run the installer as a background process.

To Upgrade
The upgrade is available to all active license holders.
1. Login to the Danami client area and go to Services -> Juggernaut Security and Firewall -> Download Now to download the extension.
2. Login to your Plesk Panel and go to Extensions -> My Extensions -> Upload Extension to upload and install the extension.
3. It may take a while to upload to your server if you are on a slow connection. You can view the installation process using the command: tail -f /var/log/plesk/panel.log
Important
When upgrading you do not need to un-install your existing extension. Juggernaut will take care of the upgrade process automatically and all existing configuration is saved.
Full changelog
https://docs.danami.com/juggernaut/basics/changelog

Product Information
https://www.danami.com/products/plesk-extensions/juggernaut-security-and-firewall
Wednesday, March 14, 2018