We are pleased to announce the release of Sentinel Anti-malware 1.16 under General Availability. This release has passed Plesk certification and is now available in the Plesk extension directory.
Third Party Signature Support
We've added a new signature provider page under Settings -> Signature Providers where admins can enable third party ClamAV signatures from InterServer. See here for more information.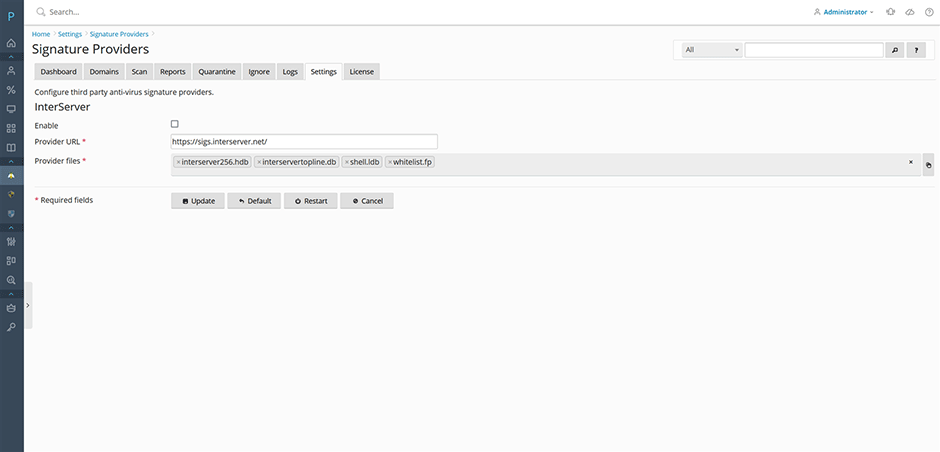 Changelog
[+] Added a new signature provider page under Settings -> Signature Providers where admins can enable third party ClamAV signatures from InterServer. These signatures are focused on detecting malicious PHP scripts. See here for more information.
[+] Added signature reload functionality to the signatures dashboard widget.
[+] Added syntax highlighting to the malware hits area.
[=] Updated the default Anti-virus setting ConcurrentDatabaseReload to be dynamically set based on the system memory. If the system has at least 4 GB memory it will default to yes to allow for non-blocking (multi-threaded/concurrent) database reloads.
[=] Updated the Anti-virus settings ExcludePUA and IncludePUA to be textareas instead of select lists to allow for more granular options.
[=] Updated the Anti-virus setting SelfCheck default from 600 to 3600 to improve performance and optimize how often anti-virus signatures get reloaded.
[=] Updated the extension custom button location to display in the left navigation (in both service provider and power user views).
[=] Updated the geolocation settings page to not throw an error when first entering the MaxMind license key because new keys can take about 30 minutes before they are recognized.
[=] Removed deprecated options from the anti-virus settings pages and updated the online documentation.
[=] Removed customer information from the domains select list to make extra space when scanning multiple domains.
[-] Fixed the VirusTotal malware search in the quarantine as they changed their search parameters.

To Upgrade
The upgrade is available to all active license holders.

1. Login to your Plesk panel and click on Extensions -> Updates -> Select the Sentinel Anti-malware extension then press the update button. You can view the upgrade process using the command: tail -f /var/log/plesk/panel.log

Full changelog
https://docs.danami.com/sentinel/basics/changelog

Product Information
https://www.danami.com/products/plesk-extensions/sentinel-antimalware
Friday, January 14, 2022