We are pleased to announce the release of Juggernaut Security and Firewall 2.18 under General Availability. This release adds support for CloudLinux 8. All users are encouraged to upgrade. This release has passed Plesk certification and is now available in the Plesk extension directory.
New Options For Selecting Network Interfaces
You can now use select2 select lists to pick which network interfaces to apply the firewall rules to.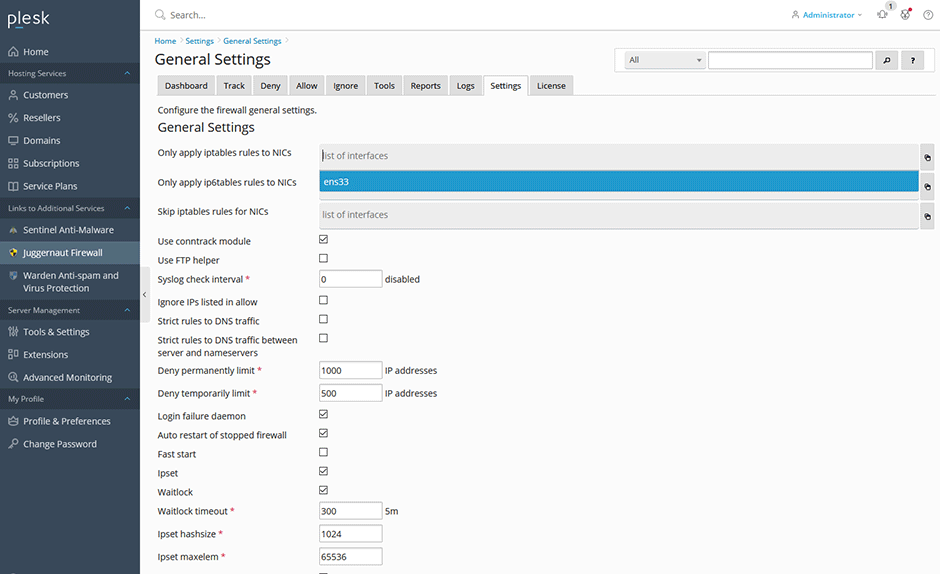 New Network Tools
We've made improvements to the network tools area and added new tools for MX, DMARC, RDNS, and DKIM record lookups.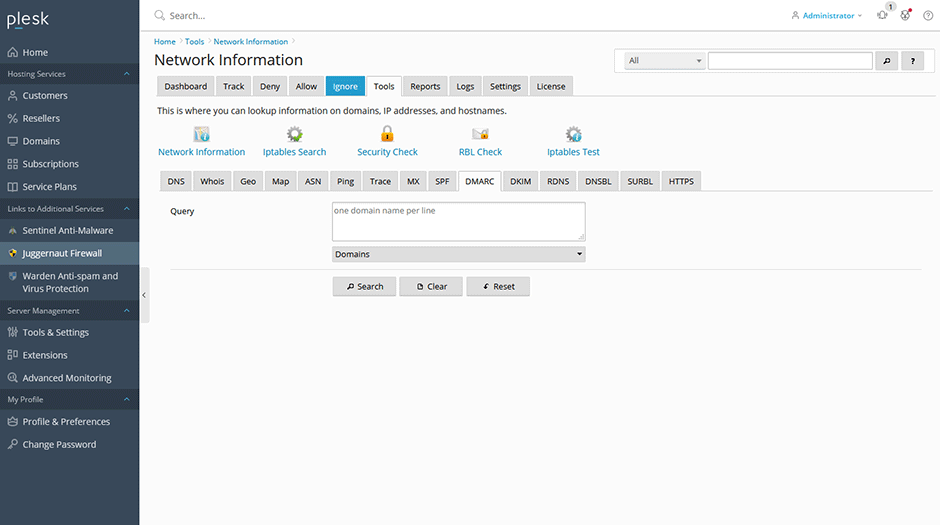 Changelog
[+] Added CloudLinux 8 support.
[+] Added bulk MX, DMARC, RDNS, and DKIM record lookup tools under Tools -> Network Information.
[+] Added the rsync port 873 to the default ports for TCP_OUT and TCP6_OUT.
[+] Added the option Login failure temp blocking alerts - `LF_TEMP_EMAIL_ALERT` under Settings -> Reporting & Alerts giving users the ability to enable or disable temporarily blocked alerts.
[+] Added preview links to on the messenger page so that you can view the secure and unsecure messenger service when it is enabled.
[+] Added a restart button on the Cloudflare users grid.
[=] Deprecated support for Centos 6/RHEL 6/CloudLinux 6 and Debian 8.
[=] Updated the `ETH_DEVICE`, `ETH6_DEVICE`, and `ETH_DEVICE_SKIP` options under Firewall -> General Settings to be select lists so you can pick which interfaces you want to add or remove.
[=] Updated the `CLUSTER_SENDTO` and `CLUSTER_RECVFROM` options under Login Failure Daemon -> LFD Clustering to be textareas to make them easier to manage.
[=] Updated the HTTPS lookup tool to handle lookup errors better.
[=] Updated the network-info vendor libraries to their latest versions.
[=] Removed offline blocklists from Snort.org, ProxyLists.net, NoThink.org, MyIP.ms, MalwareDomainList.com, and BadIPs.com.
[-] Fixed a bug where the Login - IP Address FTP and Login - IP Address SSH reports would not show up on the dashboard.

To Upgrade
The upgrade is available to all active license holders. Login to your Plesk panel and click on Extensions -> Updates -> Select the Juggernaut Security and Firewall extension then press the update button. You can view the upgrade process using the command: tail -f /var/log/plesk/panel.log

Full changelog
https://docs.danami.com/juggernaut/basics/changelog

Product Information
https://www.danami.com/products/plesk-extensions/juggernaut-security-and-firewall
Wednesday, November 18, 2020